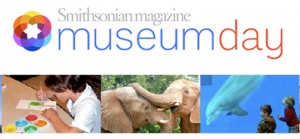 Just posted by the Smithsonian Magazine…September 25th marks the 6th annual Museum Day!  Museum Day is an annual event hosted by Smithsonian Media in which participating museums across the country open their doors for free to anyone presenting a Museum Day Ticket – http://microsite.smithsonianmag.com/museumday/
There are many wonderful museums across the world working to preserve and exhibit collections for all to enjoy. We invite you to participate in "Museum Day".  Head out to a museum near you and check out what they have!
The International Walldog Mural and Sign Art Museum offers FREE admission EVERY day…so come and enjoy! The museum is receiving artwork almost daily – so there is bound to be something new to see every time you walk through the doors!
Happy Museum Day! Check out a museum near you!