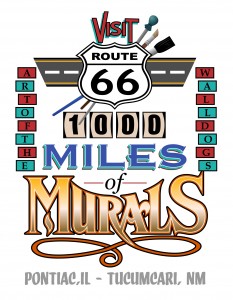 Logo designed by: Doug Quarles – Tucumcari, NM
"Pontiac to Tucumcari – 1,000 Miles of Murals" – A Route 66 tour featuring the numerous murals found in more than 30 small communities between Pontiac, Illinois and Tucumcari, New Mexico along Route 66.
We'll send you off in the general direction you'll need to go without pinpointing where the murals are located – some of the adventure is left up to you. One of the best ways we've found to discover murals and other treasure is to talk with the locals.
Six towns between Pontiac and Tucumcari have been highlighted. However, there are several communities along the Mother Road that have magnificent murals, museums, and galleries. To discover why Pontiac and Tucumcari were chosen you have to look beyond Pontiac's murals and the International Walldog Mural and Sign Art Museum, and beyond Tucumcari's 30 plus murals painted by artist Doug and Sharon Quarles to a photo exhibit by photographer Michael Campanelli comprised of 166 photographs.
The "Route 66: A Photo Journal" (www.camp66.com) is now also on display in Tucumcari, New Mexico and has been on display in Pontiac, Illinois at the Route 66 Hall of Fame and Museum for three years.
Click here to see murals: Flickr Gallery
Pontiac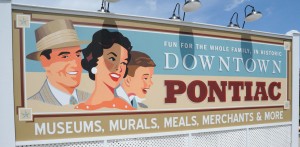 There are plenty of reasons why tour buses are a common sight in the town of Pontiac. Route 66 Hall of Fame and Museum , Livingston County War Museum, major paintings by the Walldogs all over town, swinging bridges, Lincoln tour, street art, Michael Campanelli's "Route 66 : A Photo Journal" photography exhibit, Bob Waldmire's Vehicles, the International Walldog Mural and Sign Art Museum and others. 18 of Pontiac's murals were painted during a four day 2009 Walldog Event where more than 150 painters from around the world came in town to do the painting. These murals are a depiction of what the town was like in the early 1900's. To see pictures that were taken during the Walldog event click HERE!
Probably the most often heard comment in Pontiac is, "we'll have to come back when we have more time." Give yourself plenty of time in Pontiac – you could easily spend a day or two here.
As you leave Pontiac heading to Atlanta, Illinois along Route 66 keep an eye open for these timeless treasures; Chenoa murals, signs in Lexington, Shirley( Funk's Grove) and McLean there are others – you'll have to find them on your own.   Dixie sign in the McLean plus many others.
Atlanta
As you arrive in Atlanta, Illinois you immediately realize it has nothing in common with the Atlanta in Georgia. Easiest way to locate the Atlanta murals is to park in town and walk around or drive slowly through the business district-it isn't a very large area. Make sure to say hello to the locals-they are our Route 66 neighbors. You'll probably run into somebody with a story to tell.
A short drive south on 66 leads you into Lincoln and its downtown murals. Vintage signage can be seen in most towns along route 66 in Illinois. Looking for murals we suggest taking the highway 4 alignment of Route 66 out of Springfield (Illinois) to Virden, Girard and possibly the most natural mural on 66-The Turkey Tracks in Nilwood. A treasure in Girard is the Pharmacy museum located inside the definitely a step back in time – Doc's soda fountain/ Doc's Pharmacy museum
Before arriving in Cuba, Missouri you'll find several murals in Sullivan including a unique mural done in black and white
A mural completed in October, 2010 at Harry's Tire shop has sparked interest in other business owners possibly having murals painted on their buildings. We can only hope.
Cuba
When Cuba's first mural was painted in 2001 to commemorate Peoples Bank 100th birthday the people of Cuba had no idea that painting one mural would be the beginning of a major change to their town. Now local artist Shelly Smith Steiger and Julie Balogh Brand along with other nationally known artist have left their mark on Cuba for many years to follow.
From civil war action to Amelia Earhart, Bette Davis and Harry S. Truman, local business families and more, the murals represent an oversized image of Cuba heritage.
Along with the murals Cuba's historic preservation commission has done a wonderful job of restoring many of the town's older buildings and residences.
Heading to Galena, Kansas just four miles southwest of Cuba would be you next mural sighting in Fanning although that oversized rocking chair might catch you eye first.
We highly recommend staying on Route 66 as you cross Missouri heading to Kansas. Traffic is generally light and what Ramona Lehman (of the world famous Munger Moss Motel) calls the "rollie pollies" makes for an enjoyable cruise. Of course you'll need to slow down as you approach the towns you'll come across, such as St. James, Waynesville, Buckhorn, Lebanon, Avilla and others, but we see that as a good thing as this is where a lot of your adventures will begin. Again, don't be shy about talking with the locals as most of them will be pleased you took the time to stop. There's also great antique hunting along the way.
You'll find more murals in western Missouri in Cartage, Carterville, Webb City, and Joplin. If possible in Joplin enter City Hall at 602 Main St. to view the two Benton Murals. Joplin is recovering from a major disaster and your visit will be warmly welcomed. They can use your support now more than ever
Galena, Kansas
A great example of America at its finest sits at 319 West Seventh in Galena. What is on display inside the Galena mining and historical museum is interesting enough but the history of the building and the beginning of the museum is a story of American fortitude and resolve.
You never know what remnants from America you will find as you enter doors of museums in small towns across this country. More often than not you will be pleasantly surprised- another excellent example of this is just ten miles down the road at the Baxter Springs Heritage Center and Museum. Here you will find one of the best small town museums in America.
On the way to Davenport, Oklahoma you may find yourself a little busy. We've viewed murals in Baxter Springs, Kansas as well as these towns in Oklahoma-Quapaw, Commerce, Vinita, Chelsea, Foyil, Sapulpa, Bristow, Depew and Stroud. In Foyil you'll need to visit Totem Pole Park, a couple of miles outside of town. It is definitely a one of sight.
Davenport
That brick road leading into downtown Davenport might get you to start wondering about the people who used that road in the past. You can find some of that information painted on their downtown walls. Measuring 32 feet tall the land run mural on the Farmers Bank building is one of the most impressive murals anywhere. The locals will let you know how proud they are of them. Once again we can only hope more are on their way.
Heading toward Shamrock, Texas and Tye Thompson country you'll find more Oklahoma murals in Chandler, Bethany and El Reno. In Bethany you can absorb a lot of Bethany's history walking down the sides of two buildings. Don't be surprised if a car pulls alongside and someone asks "How do you like our murals?"
Shamrock
Miles before arriving in Shamrock their largest landmark appears into view. Built in 1915 and standing 175 feet tall, the Shamrock Water Tower.
Feet tall this Shamrock water tower, towers over the surrounding landscape. Many generations of Shamrock travels will tell of the feeling of being "back home" once the tower came into view.
Best tower story has to be of local pilot Wallace Fields attempt to let his parents know all was well.  Flying with the 19th Bombardment Group out of Pyote Field near Midland, Texas, Wallace flew "his" B-17 down Main Street so low Wallace said that when he looked up he could see the top of the tower.
Tye Thompson's work is beginning to become visible all over Shamrock.  A short stroll through town makes this very apparent. If you're fortunate during your travels you may find Tye doing his artistry to another wall either here or elsewhere in the Texas panhandle- they make it look easy!
Tye Thompson's work is beginning to become visible all over Shamrock.  A short stroll through town makes this very apparent.  During the right time of year it is very possible to find Tye doing his artistry to another wall here or elsewhere in the Texas panhandle – they make it look so easy.
McLean
Sometime the biggest surprises come from the most unsuspecting sources. Inside the devil's rope museum (used to be a bra factory) you'll not only find over 2,000 different strands of barbed  wire but also Delbert Trew's amazing articles and also three Tye Thompson murals inside.
A couple of blocks over, the McLean historical museum will give you a glimpse of life in the rugged Texas panhandle. You soon realize what a hearty group of people live here.
Tye's work is all over this town.
Don't be concerned with building a Texas size hunger while in McLean-Red River Steakhouse is just down the road. You'll probably be there looking at more of Tye's work anyways.
On the last leg of the journey into New Mexico, you can see more of Tye's work in Alanreed and other artists in Amarillo and Vega.
While in Amarillo a visit to the Galleries At sunset Center offer a chance to visit over 40 art galleries and studios under one roof. The Sunset Center is conveniently located just a couple of blocks off Old 66 at 3701 Plains Blvd. Enjoy your stay-you don't have very far to go to enjoy "Tucumcari Tonite"!
Tucumcari
1,000 miles of vintage signs, ghost signs, museums, art, murals, foreign tourist and proud local Americans now you're in a town that offers all that and more. "Tucumcari Tonite"!
For over half a century those two words have brought many a traveler into this town. Do yourself a favor and stay awhile. The people are great (so is the food) and with over 1,000 motel rooms lodging is plentiful. Be forewarned though, you may soon discover how the "land of enchantment" becomes the "land of entrapment". Just takes a couple of sunsets and those incredible night skies to get you thinking, "I could get use to this".
Here's a town we don't have to be hoping more murals are on their way. Thanks to the Quarles and the Chamber of Commerce Tucumcari is constantly in a state of change. It's always amazing to see an idea change into a work of art. Doug and Sharon Quarles do it as well as anybody. Doug's work graces the cover of this brochure.
The Quarles have painted nearly 40 murals in Tucumcari. Most are outdoors with several indoors.  You will not be disappointed in taking the time to view them all.
Doug and Sharon Quarles run an art gallery in Tucumcari on Route 66. Their artwork is phenomenal. Doug's ability to blend colors and paint the finest detail is outstanding. Sharon's chrome drawings done with pastels are absolutely amazing. A visit with them will be long remembered.
If you arrive late check into the Motel Safari or one of the other vintage motels Tucumcari has to offer. There are also plenty of rooms with modern accommodations available. You'll want to stick around for the after dark neon displays plus the Quarles's Art Gallery and the east facing murals are a sight to see in Tucumcari's first light.
We constantly working on improving out map of all murals located around Historic Route 66. If you know of a mural that we should add please feel free to visit our contact page and let us know about it. Keep your eyes and ears open – it's hard to see it all.
View Murals on 66 in a larger map